Super Rares
Here are some M.U.S.C.L.E.s or Kinnikuman that are really rare.
Sunshine M.U.S.C.L.E. with a hole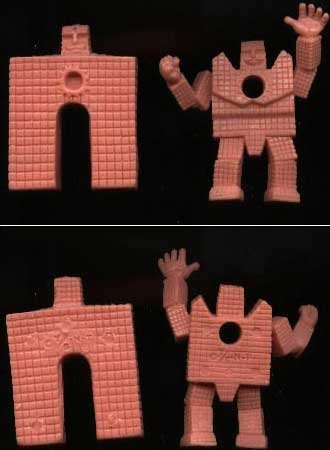 This guy is really interesting. He is the Kinnikuman #306 mold, without the chest insert. But, he is 100% M.U.S.C.L.E. Same plastic and everything. I saw him in a lot on eBay, and contacted the seller to see if he was MUSCLE consistency or Kinnikuman rubber. The seller assured me that he was the same as the others, but I was still wary, so I only bid $15 over normal for him. Well apparently Damon had the same idea, and had contacted the seller about the same issue and had received the same response. And he beat me out. So after I lost the bid, I emailed Damon and asked if when he got the lot, if he could verify whether it was a M.U.S.C.L.E. or not. He obliged, and today I got this email with these pics attached:
Greetings!
Good news! The Sunshine muscle is %100 M.u.s.c.l.e.!!!!!!!!!!!!! I've scanned him front and back and have sent it to you. Please let people know and feel free to use the picture or send it out. After 16-17 years or so I'm totally surprised to find this Muscle. Never knew about this one! Please spread the word about Blackhole Sunshine maybe there're are other Muscles out there waiting to be found!
Damon
Thanks Damon!
Awesome, huh! My take is this, with most new toy lines, they usually have a "TEST MARKET". That is, an area of the country, where they do a small production run, to gauge the popularity of the toy line, to see if it is profitable to mass market them. And with these test markets, they usually have alot of prototype toys, and not usually the final line. This is my theory on where our rare MUSCLE guys come from, like Satan Cross, the swivel head Ashuraman, and also, the cool Sunshine above.
-Johnny
---
X-2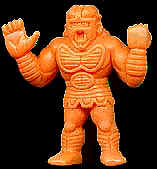 a.k.a. Brant Snell's Futuristic Goalie
Originally thought of as a super rare prototype M.U.S.C.L.E., watch as our famed Nippon Gene uncovers the truth behind the legend. See the world exclusive interview HERE!